IndyCar frontrunners Scott Dixon and Will Power have praised the series for avoiding "random" caution periods in the St Petersburg season-opener.
Sebastien Bourdais' Honda letting go soon after the first pitstops and a track banner becoming strewn across the course at Turn 3 were both incidents that could have prompted yellows.
But race control elected to stay green because Bourdais was able to get far enough down an escape road, and the banner debris was adjudged far enough off-line to not require a yellow flag.
Dixon and Power finished second and third in the race behind Josef Newgarden, and said the IndyCar race control triumvirate of race director Kyle Novak and ex-drivers Max Papis and Arie Luyendyk had made exactly the right calls.
"It should be about someone deserving to win. Someone shouldn't win because a random yellow fell at the right time for him," said Power.
"All the money and effort that drivers put in to get into this situation and teams put into development, you should win in a deserving manner.
"That's why I think the 'pits closed' [under full-course cautions] is the last thing they need to fix in this series for it to be pure racing.
"They don't just throw the yellow for anything or debris. It's not an issue. I think it's the right direction."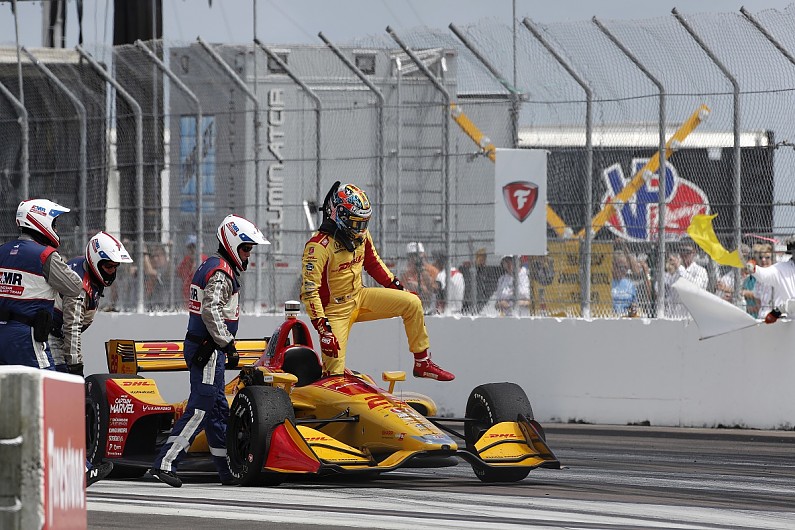 The only full course yellows in the race were caused by Ryan Hunter-Reay parking after an engine failure and Ed Carpenter hitting the wall then being collected by Matheus Leist.
There was eight yellows in the 2018 race.
Bourdais had won in St Petersburg for the previous two seasons, each time using an off-sequence pit strategy.
"It's nice if it's random and it falls your way, but the possibility of that is pretty slim," said Dixon of the timing of yellows.
"We've seen that the last two years here with the result. It was just kind of random, it flipped the field.
"It makes for an interesting race maybe, but as Will said, it's not completely fair, and the teams that are really fast and qualify up front, are the ones that get hurt. The leaders always get hurt.
"If there's consistency there, that's great. We've had a glimpse of that in the past and then it kind of went haywire for a little bit. All you want is consistency."