IndyCar's youngest race winner Colton Herta says he was not "super-confident" he could hold off Josef Newgarden for victory at Austin.
Harding Steinbrenner's Herta was a shock winner at the Circuit of the Americas after James Hinchcliffe and Felix Rosenqvist's collision brought out a late caution that caused Will Power, Alexander Rossi and Scott Dixon to fall out of contention.
When the leading trio pitted, Herta cycled to the lead – after Will Power retired in the pits having led every lap – before the race returned to green flag conditions with 10 laps remaining.
Despite a push-to-pass disadvantage of 43 seconds to Newgarden's 127, and with both drivers on cold tyres, Herta's rapid restart pulled him clear of his Penske rival to win for the first time in IndyCar.
"On the restart we were quick, we kind of sprinted off," Herta said.
"I know we got the quickest lap on that first lap [after the restart], which was pretty crazy to have the tyres up to temp and everything ready for that.
"[But I wasn't] super-confident at all, to be honest. I was kind of looking at it that they might get by me [but] I thought I could still manage podium.
"I'd never done a restart from cold tyres that were reds [the softer compounds]. In St Pete, I only made my restarts on blacks.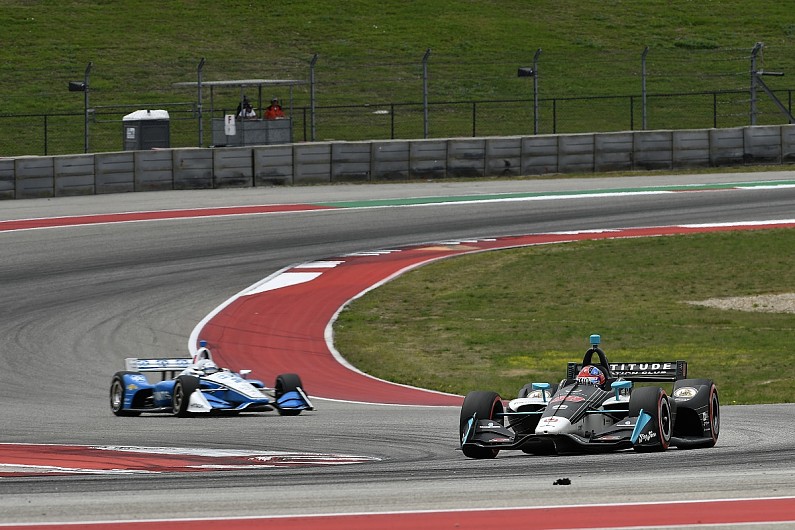 "It kind of felt a little unnatural. The tyres came up to temp really quickly. It wasn't really that big of a problem.
"I got a really big jump out. Newgarden got a little bit of wheelspin.
"It was off to the races for me, pulled out the gap. Kind of got it to where I wanted and tried to hold it there and save my 'push-to-pass' in case a caution came out at the end."
Newgarden said he did not have enough to challenge Herta in the closing stages, having run off-strategy to climb from seventh to fourth before the late caution.
He said: "I knew we had a shot. I was excited. I was like, 'man, [let's] see what we can do.'
"But it just turned out that we didn't have enough. We just simply weren't fast enough. His Harding-Steinbrenner car was very fast. We just simply didn't have enough.
"I was trying to actually progress through that stint, see how I ended up towards the back end to see if he dropped off the tyres.
"He was just so good on cold tyres, which has really kind of been our nemesis, to be honest.
"We're very good at looking after our tyres, we can't get going quite as quick as these guys. That's really what hurt us.
"He put a big gap on me in that first lap, maintained. I couldn't close up. Just didn't have enough today."