The "new Renault" promised by team boss Cyril Abiteboul is under pressure to "reset" its Formula 1 campaign at this weekend's Spanish Grand Prix.
Renault has scored points just once with each driver across the first four grands prix of 2019 and suffered a new low at the most recent race in Azerbaijan.
Daniel Ricciardo locked up trying to pass Kvyat for 10th into Turn 3 and then reversed into the Toro Rosso when trying to get out of the escape road, having failed to notice Kvyat was still behind him in a "panic".
His team-mate Nico Hulkenberg finished a lonely 14th, ahead of only the two Williams drivers.
Team principal Abiteboul had claimed F1 was starting to see a "new Renault" in action prior to the Baku weekend.
After its latest setback in 2019, though, Abiteboul has admitted the team must seize this weekend's race at Barcelona as "an opportunity to reset".
"Overall, it's been a tough start to the year and the Azerbaijan Grand Prix capped off a run of results that fell short of our expectations," he said.
"We know we are capable of much more and we need to target clean weekends and races to make the most of our potential.
"To do so, we have work to do on all sides of our operation; chassis and engine on and off track, and work with the drivers to allow them to reach their respective capacities.
Abiteboul is aiming for "a full recovery in competitiveness in Spain", and the significance of events in Azerbaijan should not be understated.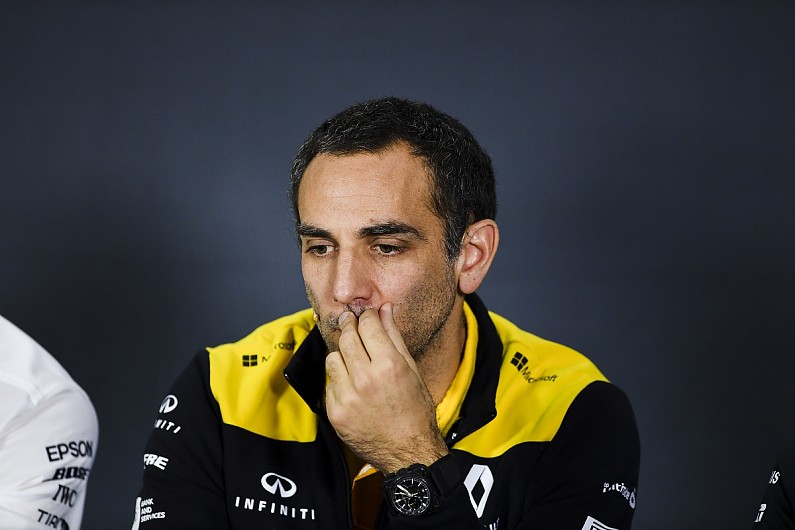 Renault's struggles were such that Abiteboul's outlook on the team's start to the season changed quite considerably in a matter of 48 hours.
On the Friday in Baku, Abiteboul spoke of the positives during a tricky first three races and said Renault's chassis progress was "stronger than it's ever been".
This, he claimed, said "something about the new Renault that we are starting to see in action".
He said the same about the fact the team was fourth in the constructors' championship despite "only two cars finishing out of the six cars that have started so far".
By the end of the a "bad" Baku weekend, though, that turned into two cars finishing in the points in eight attempts.
Renault slumped to seventh in the constructors' championship after sweeping changes to the car's set-up following Friday practice did little to boost its performance.
With that slump Abiteboul's search for a silver lining turned to an admittance that the start to the season has been below-par.
The team's struggle in Baku seemed to lie on the soft tyre. It was not the only team seeking answers to that, as its 2018 rival Haas suffered the same fate.
That meant the two fastest cars in the midfield were among the slowest in Azerbaijan.
Both will hope for a reprieve in Spain, where track temperatures should be warmer and the teams return to more familiar territory thanks to their testing baselines.
Renault will not simply cross fingers and hope for better, and will know how important it is going to be to find an answer to the struggles in colder temperatures, generate more confidence under braking and better performance in traction zones.
Otherwise, after Spain, it will face a gruelling challenge in Monaco and Canada.
The season is far from over and even after the race in Montreal there will be still be more races left to run than have already been completed.
However, Renault cannot afford to lose more ground, especially as this season it was supposed to make a clear step away from the midfield and close the gap to the top three teams.
The onus is on Renault to establish why Azerbaijan was an anomaly and re-establish itself as best of the rest.
Then, future races can show that its poor performance was the exception that proves the rule.
Evidence of a breakthrough in that understanding could lie in Ricciardo's second Baku stint, with the Australian aware that Renault would have had an "upbeat" finish to a weekend it had not "really been on it", were it not for his mistake.
It will be slightly tougher for Ricciardo to sweep to best-of-the-rest in Spain thanks to the three-place grid penalty he must serve for his Baku brain fade.
Whoever leads its charge, the 'new Renault' that Abiteboul referenced ahead of Baku must burst into life sooner rather than later.