Sebastian Vettel thinks he did Lewis Hamilton "a favour" with his bid to go around the outside of Valtteri Bottas at the first corner of Formula 1's Spanish Grand Prix.
With Mercedes in a class of its own at Barcelona, Vettel knew that the only chance he had to take the fight to the championship leading team was by trying to do something special at the start.
The Ferrari driver picked up a good slipstream off Bottas on the run away from the line and tried to go around the outside of both Mercedes at Turn 1 – but in the end braked slightly too late and locked his right front tyre.
Bottas ended up pincered between Hamilton and Vettel and losing his pole advantage.
"I wanted to brake latest – which I think I did," said Vettel when asked by Autosport about his first corner effort.
"Obviously Valtteri was also quite late and I could not really get in, and I couldn't see him so I knew he was there.
"I saw that he was also braking quite late and if I just turned in, which I think I could have managed, then he would have had nowhere to go and I would go the other way. It didn't work.
"In the end, obviously I did Lewis a favour because I distracted Valtteri.
"It was clear that I couldn't win the race at the first corner but I saw there was something to try.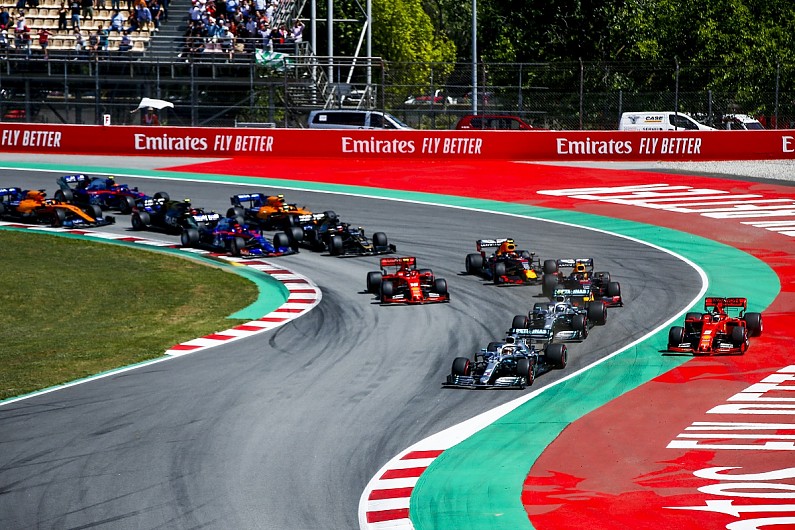 "I tried and it didn't work, but I was hoping I could maybe mix things up a little bit for my sake and your sake!"
The flatspot from that move hampered Vettel's first stint and he fell into the clutches of team-mate Charles Leclerc before letting the other Ferrari through, although Vettel was convinced he would have held on easily without his tyre problem.
"Obviously my race was a bit compromised the first stint," he said.
"We didn't have many laps where I could go the pace of the car.
"I think we would have been strong in the first stint with the soft tyre.
"Charles had a good stint but on my side I had a flatspot to manage, so lost quite a lot.
"But certainly once I was in free air I felt quite good and the pace was quite strong, also in comparison with Max [Verstappen]."