Ganassi IndyCar duo Felix Rosenqvist and Scott Dixon were puzzled by grip and tyre problems hurting them in the Indianapolis road course race they had swept the front row for.
Rookie Rosenqvist made a strong start from his first series pole and led the first 15 laps but fell to fourth following the second restart then struggled with high tyre degradation.
He also had fires at two pitstops and finished eighth.
Dixon fell to third initially but reclaimed the lead with a brilliant first restart, then led 39 laps only to be passed by winner Simon Pagenaud on the penultimate lap having been outpaced as rain hit.
"It was a mix of bad timing on some things, we had some bad luck, and some errors here and there," said Rosenqvist.
"The main point for us was that we were still having issues with degradation, mainly on the [softer] red tyres.
"We just dropped massively and we had to go short on the second stint on reds.
"That set us up badly for the rest of the race. I don't know why it's happening but it's something we are looking into.
"I feel like we should have had a much better result. On the wet tyres for the final stint we managed to get four or five guys in the end and wound up P8.
"It was a good salvage of points and we did recover a lot.
"At the end of the day we can be happy with that. But overall I'm very disappointed and I feel like we gave away something, which was likely a podium."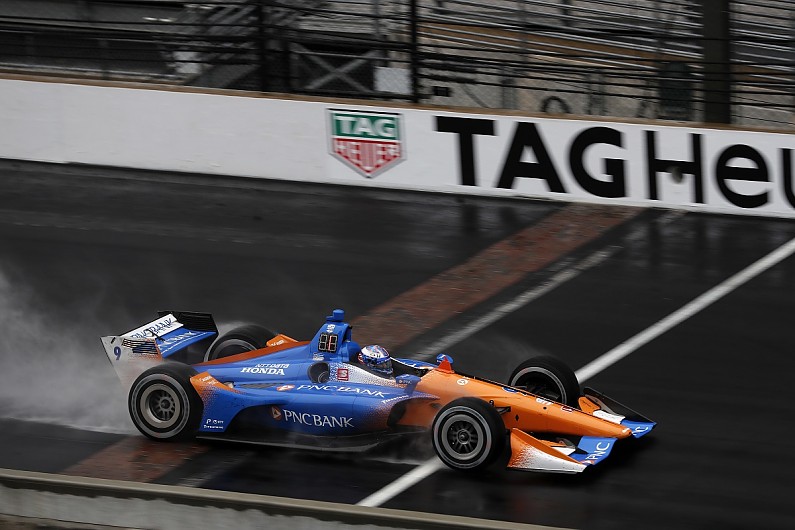 Dixon said he had "a tonne of grip" on his initial set of red tyres, but "kind of fell off a bit of a cliff" on the used examples he ran in the middle stint.
He then struggled even more in the rain and despite pulling out an early lead at the final restart he was caught by Penske driver Pagenaud at a rate of nearly two seconds per lap.
"In the rain, I don't know if we changed the front wing or whatever we did in that pitstop, but we just had no front grip and had to stop the car too much to really keep time," Dixon said.
"We were probably hoping that it rained a lot harder just for being selfish for ourselves to help the front tyres.
"I just couldn't turn. Even in the first gear corners I was almost having to stop the car to get it to rotate. It felt like I needed probably another four or five turns of front wing.
"Sometimes it kind of goes like that, depending on how your mechanical balance is, and a lot of the cars are very different. "Some may have switched to a semi-wet set-up for predictions going later on into the race.
"But whatever the balance was, we had fantastic traction, but in all the slow speed corners, I just couldn't turn the car."