Formula 1 test debutant Callum Ilott says he was caught off guard by the "weird" moment that led to him spinning his Alfa Romeo and crashing at high speed.
Ilott had just set his best time of the day at Barcelona when the rear snapped in the fast Turn 3 right-hander, leading to a rear impact reckoned to be at just over 200km/h (124 mph).
The 20-year-old Ferrari junior, currently racing for the Charouz-run Sauber Junior Team in Formula 2, had completed 40 laps when the accident happened halfway through the afternoon session and ended up 12th fastest.
"I'd done the first part of Turn 3 and then, out of nowhere, there was just a big snap – no previous movement, just gone – that's why it's a bit unexplained," said Ilott.
"There's no difference in wind, something hasn't broken that we've seen and in terms of driving it looks very similar, so it's a bit strange.
"I was completely caught off guard because it was exactly the same as all the other laps, so we're still looking at it.
"It was a weird one."
Ilott said the crash cause was "not as obvious as I thought it was" and, asked by Autosport why his interpretation of the accident had changed, he explained that he now felt there was no obvious error that caused it.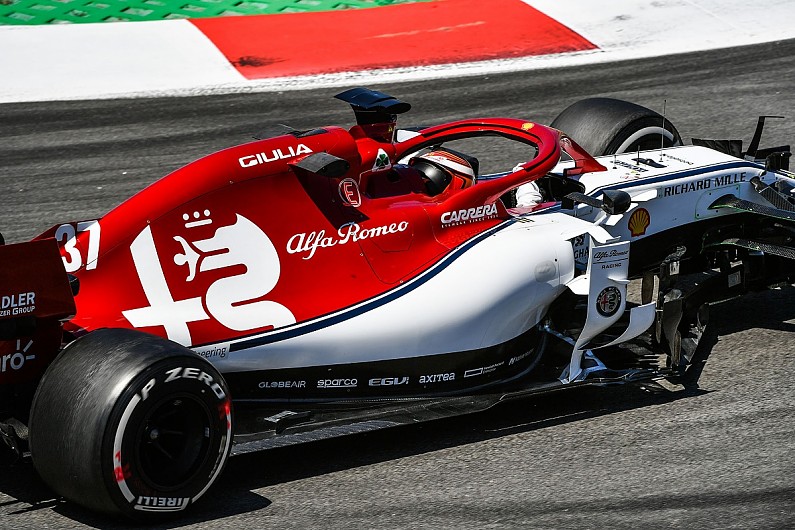 While he ruled out a car problem, Ilott suspects that it was a tiny thing that caused the crash rather than a major driving error.
"I always feel like it's my fault straightaway, like I've done some completely wrong or made the car snap," said Ilott.
"So my first real instinct is to ask what is it that I've done, blaming yourself.
"Not that I'm blaming the team in any way, but you immediately think maybe with the throttle I've gone too aggressively and then you are 'OK, maybe the wind changed'.
"I think it was a combination of when you are getting more up to speed with the car and you are more on the limit, with these cars you can see that out of nowhere these things can happen."
Despite the crash bringing a premature end to his test, with Kimi Raikkonen due to take over on Wednesday, Ilott believes his F1 test debut was a positive one.
"Obviously, everyone's a bit nervous jumping into one of these things but I'd prepared well and it's incredible," said Ilott.
"The corner speed you can carry, with the power as well, it's amazing, so it was a bit of a shock and a little bit to get used to.
"We started to progress from the installs but I felt quite comfortable with the car and was really getting into it.
"In the morning, we batted through all the testing we needed to and I was happy, the team was happy, so overall it was a really positive day other than the crash.
"We did get through the programme they wanted to, so afterwards it would have been a bit more focused on me to do some performance runs.
"It's a shame I missed out on those but these things happen, unfortunately."