Will Power and Simon Pagenaud put Team Penske at the top on the opening day of 2019 Indianapolis 500 practice, while Fernando Alonso had further electrical problems.
Power got a major tow to set his fastest speed of 229.745mph, on his 41st of 68 laps edging team-mate and last weekend's Indianapolis road course race winner Simon Pagenaud by a mere 0.043mph.
Last year's Indy 500 winner Power said that his car's handling was difficult in traffic at the start of the day as all teams had to adapt to the new Firestone rubber that has been designed to eliminate some of the confidence-sapping understeer that most drivers encountered in traffic last year.
Once configured, Power said his Dallara-Chevrolet was much more comfortable in dirty air.
Running in a Penske 'train', Power and Pagenaud overcame Ed Carpenter's time from the morning session as well as their own team-mate Helio Castroneves.
Colton Herta's morning speed held up well, and he finished the day fifth, albeit causing the only non-debris related caution flag, when he spun exiting pitlane having "bit off more than I could chew" speed-wise on the warm-up lane.
The rookie hit the brakes fast enough to keep the car from drifting onto the race surface proper as cars passed at 220mph-plus, although he burned a hole through one of his rear tyres.
Sebastien Bourdais' Dale Coyne Racing with Vasser-Sullivan entry was sixth ahead of a trio of Andretti Autosport Dallara-Hondas led by Zach Veach.
Ed Jones in the Ed Carpenter Racing Scuderia Corsa entry finished 10th overall, but was fastest without the aid of a tow, clocking a 224.542mph.
Scott Dixon in the Chip Ganassi Racing Dallara-Honda set the fastest trap speed, heading up to Turn 1 at 236.128mph.
A gearbox issue that prevented Patricio O'Ward from going through his Rookie Orientation process in the early afternoon meant he wasn't allowed to take part in the general practice from 3-6pm, so post-repairs, his Carlin team-mate Max Chilton shook the car down for him, clocking a best lap about 1.3mph off his best time in his own car.
Weather allowing – and the forecast is not good – the track will open at 10.20am on Wednesday, to allow O'Ward to go through the three phases of Rookie Orientation before full practice is due to resume at 11am.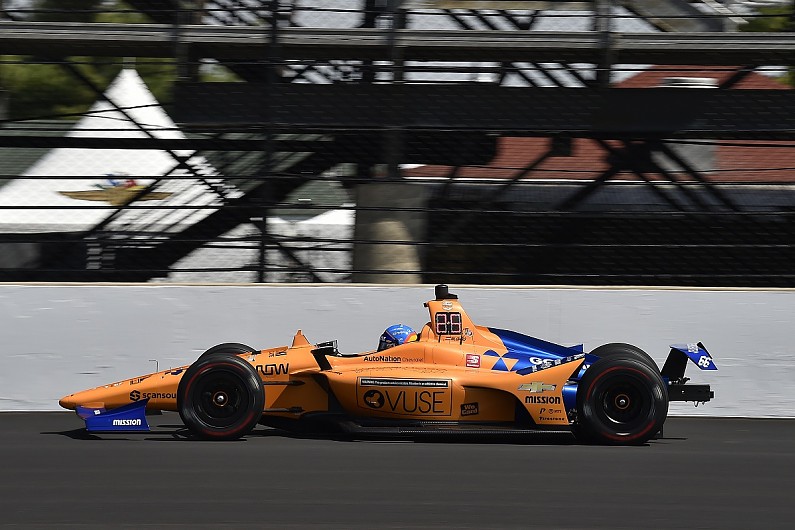 Fernando Alonso completed 50 laps, only one of which came in the afternoon, and he was 32nd on the speed charts.
He lost time with an electrical problem, which persuaded McLaren to replace the whole wiring loom for Wednesday as it followed electrical issues that had previously stunted his test on April 24.
Kyle Kaiser had been fastest in the 'rookies and refreshers' session earlier in the day. His Juncos Racing team has been hit by the loss of two major sponsors in the build-up to the event.
"My mindset is, it doesn't change no matter what's on the car," he said.
"For now, I go out there and I drive the car as best I can and put the car at the front every chance we can.
"And hopefully, if we perform the way we're supposed to perform, then we'll have people coming in to get on the side of the car."
IndyCar veteran Oriol Servia earlier this week announced a late deal to contest the race under the Team Stange Racing with Arrow Schmidt Peterson Motorsports banner. He was 37th on Tuesday.
Tuesday practice times


| Pos | Driver | Team | Car | Speed | Time | Laps |
| --- | --- | --- | --- | --- | --- | --- |
| 1 | Will Power | Team Penske | Dallara/Chevrolet | 229.745 | 39.1738s | 68 |
| 2 | Simon Pagenaud | Team Penske | Dallara/Chevrolet | 229.703 | 39.1810s | 81 |
| 3 | Ed Carpenter | Ed Carpenter Racing | Dallara/Chevrolet | 228.653 | 39.3610s | 105 |
| 4 | Helio Castroneves | Team Penske | Dallara/Chevrolet | 228.441 | 39.3974s | 67 |
| 5 | Colton Herta | Harding Racing | Dallara/Honda | 228.284 | 39.4246s | 74 |
| 6 | Sebastien Bourdais | Dale Coyne Racing | Dallara/Honda | 228.242 | 39.4318s | 110 |
| 7 | Zach Veach | Andretti Autosport | Dallara/Honda | 228.133 | 39.4506s | 109 |
| 8 | Alexander Rossi | Andretti Autosport | Dallara/Honda | 228.061 | 39.4631s | 92 |
| 9 | Marco Andretti | Andretti Herta | Dallara/Honda | 228.000 | 39.4736s | 81 |
| 10 | Ed Jones | Ed Carpenter Racing | Dallara/Chevrolet | 227.966 | 39.4795s | 105 |
| 11 | Spencer Pigot | Ed Carpenter Racing | Dallara/Chevrolet | 227.836 | 39.5021s | 128 |
| 12 | Ryan Hunter-Reay | Andretti Autosport | Dallara/Honda | 227.642 | 39.5358s | 80 |
| 13 | Scott Dixon | Chip Ganassi Racing | Dallara/Honda | 227.428 | 39.5730s | 97 |
| 14 | Takuma Sato | Rahal Letterman Lanigan | Dallara/Honda | 227.249 | 39.6042s | 90 |
| 15 | J.R. Hildebrand | Dreyer & Reinbold Racing | Dallara/Chevrolet | 227.201 | 39.6125s | 113 |
| 16 | Santino Ferrucci | Dale Coyne Racing | Dallara/Honda | 227.083 | 39.6330s | 95 |
| 17 | Josef Newgarden | Team Penske | Dallara/Chevrolet | 227.001 | 39.6474s | 60 |
| 18 | Felix Rosenqvist | Chip Ganassi Racing | Dallara/Honda | 226.829 | 39.6774s | 81 |
| 19 | Conor Daly | Andretti Autosport | Dallara/Honda | 226.721 | 39.6963s | 99 |
| 20 | Graham Rahal | Rahal Letterman Lanigan | Dallara/Honda | 226.498 | 39.7354s | 90 |
| 21 | Kyle Kaiser | Juncos Racing | Dallara/Chevrolet | 226.410 | 39.7509s | 10 |
| 22 | Charlie Kimball | Carlin | Dallara/Chevrolet | 225.843 | 39.8507s | 69 |
| 23 | James Hinchcliffe | Schmidt Peterson Motorsports | Dallara/Honda | 225.498 | 39.9117s | 5 |
| 24 | Tony Kanaan | AJ Foyt Enterprises | Dallara/Chevrolet | 225.473 | 39.9161s | 66 |
| 25 | James Hinchcliffe | Schmidt Peterson Motorsports | Dallara/Honda | 225.235 | 39.9582s | 99 |
| 26 | Jack Harvey | Meyer Shank Racing | Dallara/Honda | 225.202 | 39.9641s | 85 |
| 27 | Max Chilton | Carlin | Dallara/Chevrolet | 224.846 | 40.0274s | 76 |
| 28 | James Hinchcliffe | Schmidt Peterson Motorsports | Dallara/Honda | 224.793 | 40.0369s | 6 |
| 29 | Marcus Ericsson | Schmidt Peterson Motorsports | Dallara/Honda | 224.701 | 40.0532s | 83 |
| 30 | Sage Karam | Dreyer & Reinbold Racing | Dallara/Chevrolet | 224.615 | 40.0686s | 32 |
| 31 | Matheus Leist | AJ Foyt Enterprises | Dallara/Chevrolet | 224.355 | 40.1150s | 85 |
| 32 | Fernando Alonso | McLaren Racing | Dallara/Chevrolet | 224.162 | 40.1496s | 50 |
| 33 | Jordan King | Rahal Letterman Lanigan | Dallara/Honda | 223.973 | 40.1834s | 42 |
| 34 | Pippa Mann | Clauson-Marshall Racing | Dallara/Chevrolet | 223.910 | 40.1948s | 25 |
| 35 | Max Chilton | Carlin | Dallara/Chevrolet | 223.521 | 40.2646s | 13 |
| 36 | James Davison | Dale Coyne Racing | Dallara/Honda | 223.514 | 40.2660s | 30 |
| 37 | Oriol Servia | Schmidt Peterson Motorsports | Dallara/Honda | 223.290 | 40.3063s | 60 |
| 38 | Ben Hanley | DragonSpeed | Dallara/Chevrolet | 221.547 | 40.6235s | 14 |
| 39 | James Hinchcliffe | Meyer Shank Racing | Dallara/Honda | 220.503 | 40.8157s | 5 |
Note: Drivers appear twice if they also set a time in their spare car