Thierry Neuville has completed his first test in a Hyundai i20 Coupe WRC six days after crashing out of Rally Chile.
Neuville completed a planned single day of running in Sardinia as his pre-event test for next month's Rally of Italy.
The test ran on roads close to the route for the Alghero-based event throughout Friday.
Having departed Concepcion on crutches after injuring his left leg in the accident, Neuville said he was immediately comfortable behind the wheel.
"The leg is fine, recovering quickly and I feel really good overall," he told Autosport. "We jumped in the car and immediately the feeling was there, like it was in the last two events."
Key to the test was finalising a compromised set-up between the next two rallies in Portugal and Sardinia, which are linked events for the Hyundai's transmission and engine.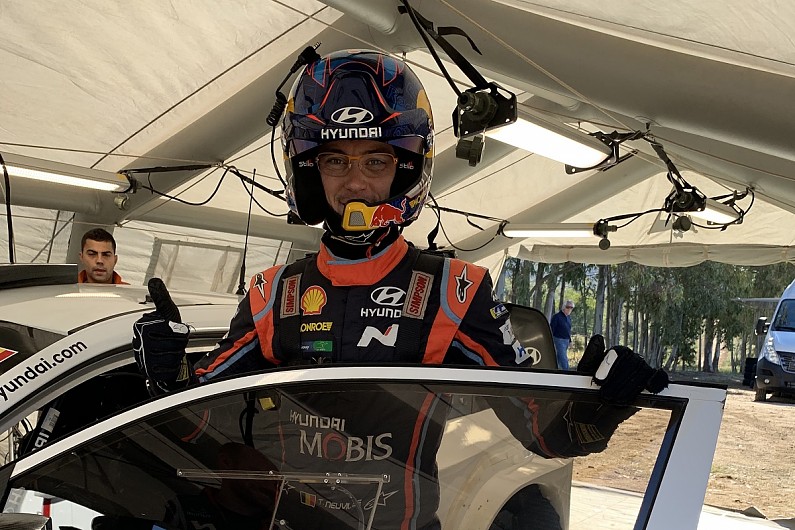 Neuville added, however, that he also found improvements ahead of the Italian event, where he won a last-stage thriller against Sebastien Ogier 12 months ago.
Neuville added: "The test was a Sardinia test and we also had to reconfirm the links for the diffs for Portugal and Sardinia [and] finally to find the best settings for Sardinia.
"We could also improve the car for Sardinia – I am already looking forward to this one."
Neuville's Chile accident cost him the lead of the World Rally Championship and his team a chassis after the car was destroyed in the crash. He and co-driver Nicolas Gilsoul start the WRC's next round in Portugal third on the road behind Ogier and Ott Tanak.
Julien Vial – Neuville's gravel-note co-driver – replaced Gilsoul at the test. This was planned and not linked to the Chile crash in which Gilsoul suffered no injuries.