Lewis Hamilton says it is "very difficult" to see himself leaving Mercedes despite discussing the appeal of a Ferrari move with his Formula 1 team boss Toto Wolff last year.
When Hamilton was negotiating with Mercedes to stay with the team beyond 2018, Wolff said they talked about Ferrari's appeal because "probably it's in every driver's head to drive at Ferrari one day".
Hamilton ultimately agreed a new deal that runs to the end of 2020, taking his Mercedes spell to at least eight seasons.
He claimed he does not remember specifically what Wolff was referring to, but said with a smile that "when you're in negotiations you always have to drop in the Ferrari name".
"Toto's a very intelligent man so we have great negotiations and great conversations," said Hamilton.
"I've been with Mercedes since I was 13, so it's very difficult to see myself anywhere else.
"I have never made it a secret that I've been a Ferrari fan, particularly Ferrari cars.
"Do I plan on going elsewhere? I haven't made any plans for my future.
"At the moment I'm just enjoying driving with this team.
"It's incredible what we're achieving together, and I plan on working with this team to help it become the most successful team of all time.
"That's my current goal and my sole focus."
Hamilton's links with Mercedes stretch back to becoming a McLaren protege while still in karting and then moving into F1 with McLaren when it was still Mercedes' factory partner.
He has won four of his five world titles with the Mercedes works team and helped the team match Ferrari for five consecutive constructors' championship successes.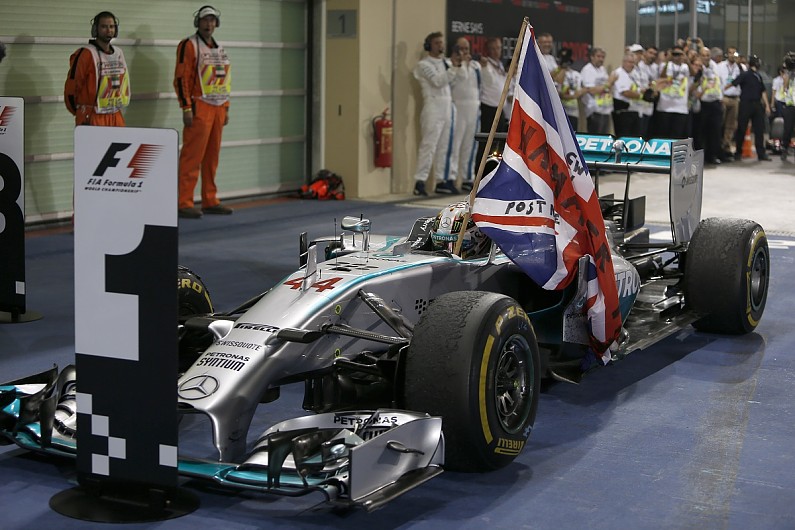 Hamilton could draw level with Ferrari legend Michael Schumacher for the record of seven drivers' titles during his current stint with the team.
He will be 36 by the time the 2021 season begins and has said before that the '21 rules overhaul will be a factor in deciding whether or not to continue.
Major changes may offer Ferrari the opportunity to usurp Mercedes as F1's dominant force, which could make the move appealing.
But Mercedes' run of titles came amid a rules overhaul in 2017 and it has scored five one-two finishes in the first five races of '19 despite another set of new aerodynamic rules.
Wolff has also reiterated that Mercedes is "not pulling out" of F1 any time soon.
"We had the discussion in the board because as a large corporation and a brand you need to choose 'do you want to be in here for the long term?' and go through cycles," he said.
"There might be times that will be very difficult, like the early 2010s, and then there will be years that are great.
"Are we prepared as a brand to stick to Formula 1 long term and go through these cycles?
"Or on the other hand, is the environment changing and do we want to take the maximum success and then take a decision on whether to go or stay?
"I think that the truth lies somewhere in the middle."