Danilo Petrucci was "very, very scared" of hitting his Ducati MotoGP team-mate Andrea Dovizioso while attacking him for second in the French Grand Prix at Le Mans.
Dovizioso had to defend from Petrucci in the late stages of the race, with the latter making a couple of attempts to pass and even briefly edging ahead at La Musee before ultimately setting for third.
Petrucci secured his maiden podium as a factory Ducati rider and his first in almost a year.
"I tried my best, he was a little bit better in acceleration, me in the entry of the corner," Petrucci told MotoGP.com. "This permits him to be a little bit far [ahead] in the braking area, so was very difficult for me to go in.
"But anyway, I was very, very scared to make a disaster with my team-mate, and especially a big friend of mine, Andrea.
"I got the face of our team manager on the back of his bike, watching us. I want to come back home with the podium, with the trophy, not with someone angry in the factory.
"I tried my best, a very, very hard fight, fortunately nothing happened, a good podium for our team and I'm very happy for him and for me.
"I give it all but I don't want to repeat Argentina of some years ago [where then Ducati team-mates Andrea Iannone and Dovizioso collided]. I said 'OK, I try where I can be sure'."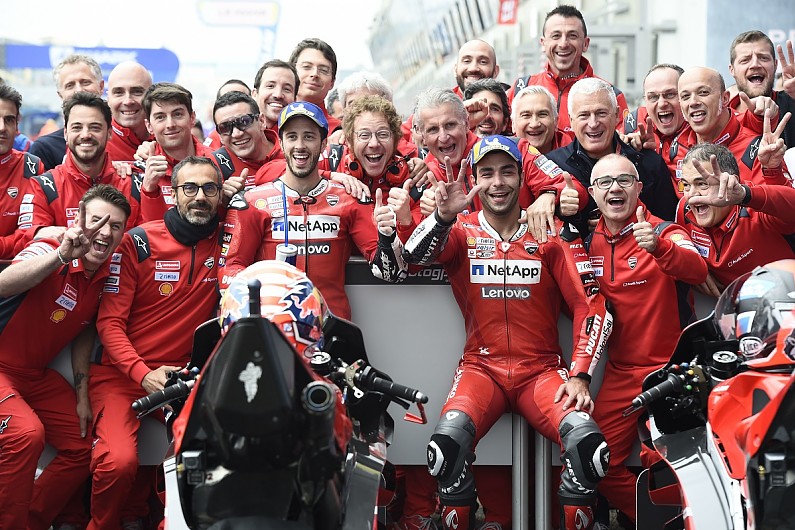 Petrucci was fighting with Marc Marquez for the lead in the early laps but made two mistakes, losing significant time.
But the 28-year-old said he was riding as if it was his final day on the works Ducati afterwards.
"In the beginning I was there with Marc and for sure he was controlling the race and I say I don't want to let him go but at the end, I made a big mistake in Turn 8 and I lost three positions.
"I was in P5, trying to recover, I made another big mistake in lap five or six. I was in P6, very far from the lead, I say 'no, why, why today?'.
"I said 'not today' and I started to push, and it was good. Like it was the last day I race with the bike.
"At the end, I was able to close the gap, we made a very, very good fight with Dovi."
Petrucci's podium comes after three sixth places and a fifth place in the first four races of the season.
He reckoned that he already had a couple of races where a podium was possible, if not for poor qualifying form, having never starting higher than seventh until Le Mans.
"Exactly 12 months minus one day [since my last podium], because last year was May 20. But anyway, it has been great today," he said.
"The past races have been good, but only in the race, not in qualifying.
"And maybe for that reason, I missed the podium two or three times, in Argentina or Jerez. Then yesterday we did a great job, starting from the first row helped me."