As Mercedes Formula 1 team-mates Lewis Hamilton and Valtteri Bottas's title battle develops, there has been a special focus on how they get off the line differently.
More than once this season they have swapped places as grands prix begin, with each of them winning and losing on the run to the first corner.
Bottas came out on top in Australia, overturning Hamilton's pole advantage, but he lost out to Hamilton after starting first in both China and Spain.
Even after an initial debrief with his engineers in Spain, Bottas said the reason for his poor start was a mystery.
"China, it was a bit more my own fault," he said a few hours after the Barcelona race. "And I felt I definitely could have done something better there.
"Here, if I could do it again I wouldn't do anything different, and we're still investigating.
"We can definitely see the vibration on the clutch and the abnormal behaviour, which cost me that few crucial metres on the way to Turn 1.
"I kind of felt it just by g-force, it was going up and down, and the whole car was vibrating, and we can already see from the data that because of that my hand and the car was vibrating as well.
"It was with very high friction, biting and releasing, so I lost quite a few metres with that in the initial part. The rest of the start was pretty good.
"Now, thinking back, one practice start gave some hints of that kind of behaviour, but there was also some wheelspin at the same time.
"So I thought it was just down to wheelspin and tyres vibrating. It was nothing on the level I experienced today. I've never had this kind of feeling before in this car at the race start."
The team continued to look into the issue, and concluded that it was most likely the case that the track lacked grip around pole position, pointing to problems suffered by the polesitters in support races. Investigations are still ongoing.
It goes without saying that getting an F1 car off the line is not as easy as it looks, and a couple of years ago the FIA actively tried to make it harder by imposing restrictions on radio communications with the pitwall in the build-up to the start to stop drivers having too much help with their clutch settings.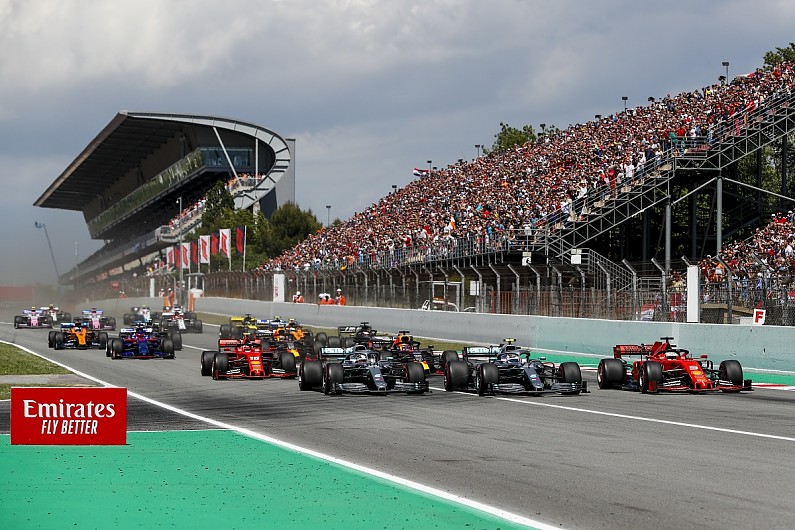 But just how hard is it, and what sort of procedures does a driver have to go through? After the race in Spain, Hamilton gave an intriguing insight.
"It's been the same for a long, long time," he said. "The start is quite technical, you've got to hit a certain rev setting, you've got to heat the tyres up a certain amount, when you release the clutch you've got to hit a target, a certain percentage – the lever is 0 to 100% – and there's a target somewhere in there, which is really, really hard to feel.
"You've got to get somewhere near your target. If you're too shallow, you under-engage, too deep, you over-engage.
"You do all the practices at the end of the pitlane, it's different grip when you get onto the track, sometimes it's more grip, sometimes it's less grip.
"And after that it's the technique, once you have hit your target or whether you are deep or not, around a second after that as you start to accelerate it's then how you release the clutch and accelerate and apply throttle, and that whole combination, the drive out phase, the second phase, is very important.
"Also the shift points have to be perfect. And it's all about distance, you measure it by who covers the most distance from the start, lights out to the first corner. It's very technical."
The start start will be even more crucial at the upcoming race in Monaco. Who will get it right?