AJ Foyt Racing driver Tony Kanaan led the last on-track session before the 2019 Indianapolis 500 as IndyCar teams made final tweaks and preparations on 'Carb Day'.
Following morning rain, the traditional Friday session was delayed 15 minutes and shortened to 80 minutes.
Pacesetting 2013 Indy 500 winner Kanaan was delighted not so much with his top lap – at an average of 225.517mph – as he felt that was purely about being in the "right draft at the right time" but more with "a few key changes" that have left him much happier with his car's potential.
Dale Coyne Racing figured well with rookie Santino Ferrucci (pictured) claiming second, James Davison's DCR with Byrd and Belardi car fifth and Sebastien Bourdais sixth in the DCR with Vasser-Sullivan entry.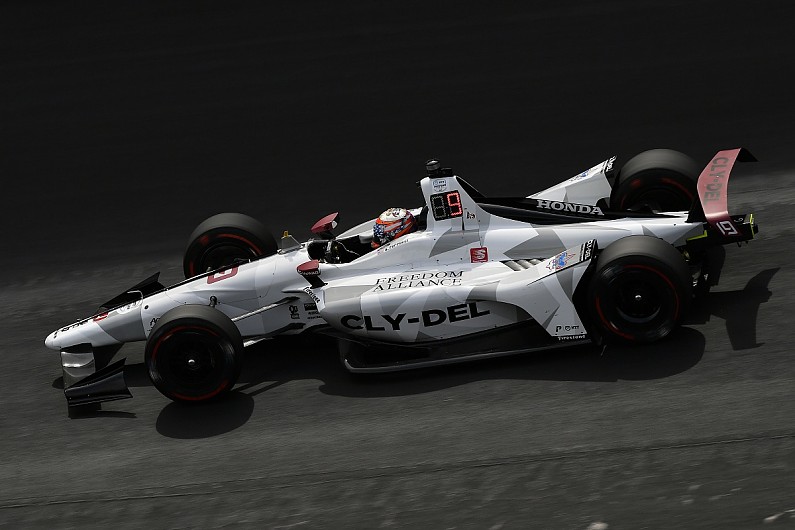 The 2017 winner Takuma Sato claimed third for Rahal Letterman Lanigan Racing ahead of one-off team-mate and oval rookie Jordan King in fourth.
Alexander Rossi was top Andretti Autosport Dallara-Honda driver in seventh, followed by Carlin's sole qualifier Charlie Kimball and Harding Steinbrenner Racing's rookie Colton Herta in ninth.
Defending winner Will Power led the Team Penske Dallara-Chevrolet quartet in 10th, with team-mates three-time winner Helio Castroneves, 2017 IndyCar champion Josef Newgarden and Sunday's polesitter and Indy road course winner Simon Pagenaud in 22nd.
Newgarden was also the busiest driver, turning 72 laps, while by comparison Ben Hanley in the DragonSpeed entry produced 36 laps as he brought up the rear and lapped a second slower than Kanaan's benchmark.
There were no yellow flags and the only notable incident was Graham Rahal brushing his right-rear on the SAFER barrier on the exit of Turn 2.
Carb Day practice times
| Pos | Driver | Team | Car | Time | Gap | Laps |
| --- | --- | --- | --- | --- | --- | --- |
| 1 | Tony Kanaan | AJ Foyt Enterprises | Dallara/Chevrolet | 39.9083s | – | 40 |
| 2 | Santino Ferrucci | Dale Coyne Racing | Dallara/Honda | 39.9137s | 0.0054s | 64 |
| 3 | Takuma Sato | Rahal Letterman Lanigan | Dallara/Honda | 39.9170s | 0.0087s | 64 |
| 4 | Jordan King | Rahal Letterman Lanigan | Dallara/Honda | 39.9402s | 0.0319s | 64 |
| 5 | James Davison | Dale Coyne Racing | Dallara/Honda | 39.9443s | 0.0360s | 55 |
| 6 | Sebastien Bourdais | Dale Coyne Racing | Dallara/Honda | 39.9488s | 0.0405s | 55 |
| 7 | Alexander Rossi | Andretti Autosport | Dallara/Honda | 40.0548s | 0.1465s | 44 |
| 8 | Charlie Kimball | Carlin | Dallara/Chevrolet | 40.0623s | 0.1540s | 46 |
| 9 | Colton Herta | Harding Racing | Dallara/Honda | 40.0843s | 0.1760s | 59 |
| 10 | Will Power | Team Penske | Dallara/Chevrolet | 40.1356s | 0.2273s | 59 |
| 11 | James Hinchcliffe | Schmidt Peterson Motorsports | Dallara/Honda | 40.1514s | 0.2431s | 48 |
| 12 | Helio Castroneves | Team Penske | Dallara/Chevrolet | 40.1617s | 0.2534s | 49 |
| 13 | Josef Newgarden | Team Penske | Dallara/Chevrolet | 40.1945s | 0.2862s | 72 |
| 14 | Spencer Pigot | Ed Carpenter Racing | Dallara/Chevrolet | 40.1956s | 0.2873s | 49 |
| 15 | Ryan Hunter-Reay | Andretti Autosport | Dallara/Honda | 40.2389s | 0.3306s | 38 |
| 16 | Conor Daly | Andretti Autosport | Dallara/Honda | 40.2398s | 0.3315s | 53 |
| 17 | Graham Rahal | Rahal Letterman Lanigan | Dallara/Honda | 40.2611s | 0.3528s | 63 |
| 18 | Ed Carpenter | Ed Carpenter Racing | Dallara/Chevrolet | 40.2718s | 0.3635s | 46 |
| 19 | Scott Dixon | Chip Ganassi Racing | Dallara/Honda | 40.2887s | 0.3804s | 54 |
| 20 | Felix Rosenqvist | Chip Ganassi Racing | Dallara/Honda | 40.3207s | 0.4124s | 65 |
| 21 | Jack Harvey | Meyer Shank Racing | Dallara/Honda | 40.3628s | 0.4545s | 56 |
| 22 | Simon Pagenaud | Team Penske | Dallara/Chevrolet | 40.3848s | 0.4765s | 64 |
| 23 | Marco Andretti | Andretti Herta | Dallara/Honda | 40.3906s | 0.4823s | 43 |
| 24 | J.R. Hildebrand | Dreyer & Reinbold Racing | Dallara/Chevrolet | 40.4018s | 0.4935s | 44 |
| 25 | Marcus Ericsson | Schmidt Peterson Motorsports | Dallara/Honda | 40.4024s | 0.4941s | 54 |
| 26 | Pippa Mann | Clauson-Marshall Racing | Dallara/Chevrolet | 40.4275s | 0.5192s | 60 |
| 27 | Oriol Servia | Schmidt Peterson Motorsports | Dallara/Honda | 40.4290s | 0.5207s | 61 |
| 28 | Zach Veach | Andretti Autosport | Dallara/Honda | 40.4346s | 0.5263s | 59 |
| 29 | Sage Karam | Dreyer & Reinbold Racing | Dallara/Chevrolet | 40.4585s | 0.5502s | 41 |
| 30 | Matheus Leist | AJ Foyt Enterprises | Dallara/Chevrolet | 40.5037s | 0.5954s | 50 |
| 31 | Ed Jones | Ed Carpenter Racing | Dallara/Chevrolet | 40.5201s | 0.6118s | 58 |
| 32 | Kyle Kaiser | Juncos Racing | Dallara/Chevrolet | 40.5956s | 0.6873s | 42 |
| 33 | Ben Hanley | DragonSpeed | Dallara/Chevrolet | 40.9614s | 1.0531s | 36 |