Haas Formula 1 driver Kevin Magnussen will start the Canadian Grand Prix from the pitlane as a consequence of his heavy crash in Montreal qualifying.
Losing control of his car at the final chicane at the end of Q2, Magnussen brushed the wall on the exit before hurtling towards the pitwall on the opposite side of the circuit and crashing heavily.
Although the Haas driver held onto his position in Q3, the car was heavily damaged – meaning Magnussen qualified 10th by default.
Haas team principal Gunther Steiner has confirmed that Magnussen's chassis will be changed, triggering a pitlane start.
Magnussen explained that the crash became so severe because he damaged a wheel on the famous 'wall of champions' and was therefore unable to rescue the situation.
"I just had a snap and brushed the wall," he said.
"It wasn't even that hard, but I caught the wall with the rim, so it just blew the rim and took the tyre off the rim and chucked me over to the other side.
"I didn't expect to spin like that, but because the outside of the rim had blown off it just turned me to the other side.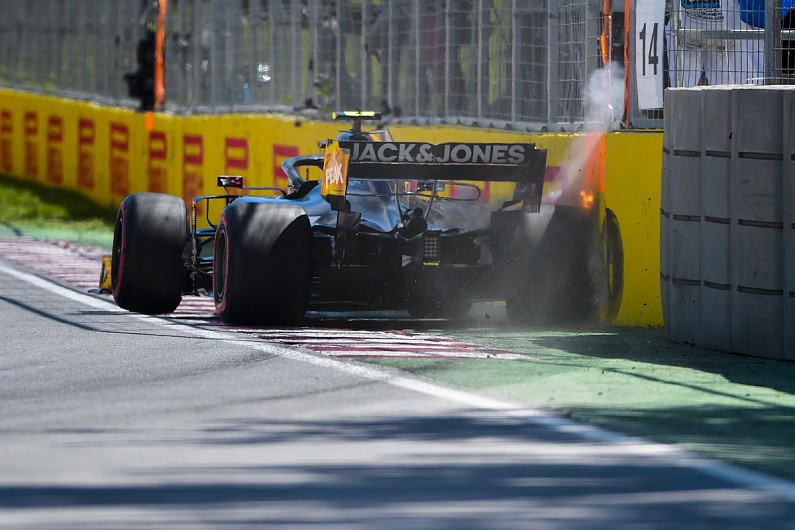 "I didn't think it would be any problem, because when I had the snap I thought 'OK I might hit the wall but it's going to be fine', but then I hit it only slightly, right on the rim and it flew.
"It was going well, but bad luck."
Asked about the extent of the damage on the car and whether the gearbox was affected, Magnussen replied "it doesn't look so good".
Both he and Steiner suggested a pitlane start was preferable to a five-place grid penalty in this instance because he could at least then change to new tyres rather than being compelled to start in the midfield on the used softs he had run as he secured his Q3 place.
Magnussen added that he felt sorry for the extra work he had given the Haas team.
"That's the thing when you make a mistake like this – it means your guys have an all-nighter," he said.
"They don't get any sleep at all. I feel really bad for them also, not only because it cost a good result in qualifying but they have to work all night.
"That sucks big time."
While downbeat, Magnussen refused to accept that his weekend was over, pointing to the unpredictability of past races around the Montreal circuit.
"There's loads of chance, sometimes you have a crazy race and you can make it to the top," he said.
"But there's also the chance that I'll start from the pitlane, get the two Williams and have a good time from there.
"Anything can happen."