Williams has brought a new suspension package to the Canadian Grand Prix, having finally emerged in a position to add updates to its 2019 Formula 1 package.
Having endured a torrid opening to the season, Williams has modified its front suspension for Montreal, hoping to find more performance from its troublesome FW42.
Like many other teams on the grid, this involves redefining the mounting point between the pushrod and the upright.
Giorgio Piola's photograph (above) displays the change to that mounting point, extending the bracket at which the suspension rod end attaches.
In doing this, this changes the load paths on the pushrod between the suspension rocker and the wheel, adding some extra compliance into the suspension.
This can also modify the motion ratio – the ratio between suspension travel and the movement of the torsion bar – to increase the load on the front tyres to improve responsiveness.
Speaking to Autosport, George Russell was happy with the changes made to the suspension, but was keen to play down its impact on solving Williams's current problems.
"I think it worked as expected really," Russell said. "It's a small step in the right direction.
"[It's] just to give us a better through corner balance really, that was the idea behind it. And we achieved it.
"Like I said, it's definitely a step in the right direction, but it hasn't solved our issues."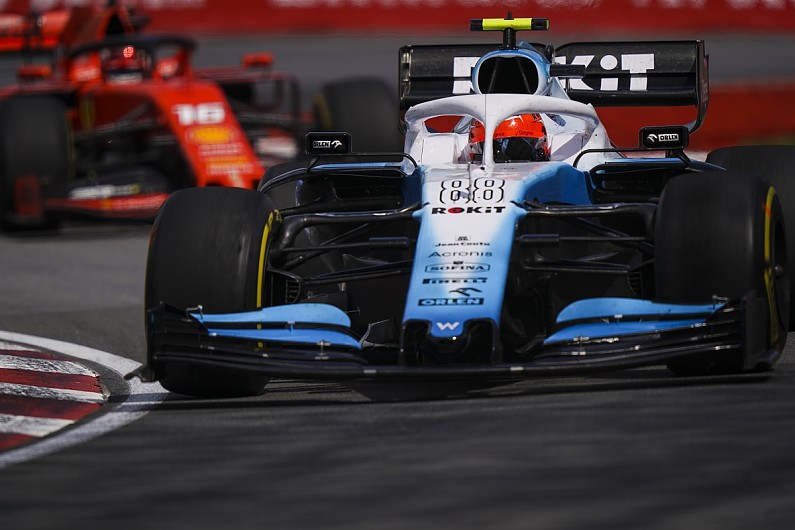 Robert Kubica was also upbeat over the new suspension package, despite only sampling it in Friday's second practice session.
"It's doing what it's supposed to do, so I think this is positive," Kubica told Autosport.
"You cannot really make any statement or conclusion on performance as the track is completely different compared to Monaco, but it feels different so it does what's expected."
Williams reserve driver Nicholas Latifi – who stood in for Kubica in FP1 – had already tested the solution at Barcelona, and was positive about the new geometry's benefits.
"Based off some development items that came to the car, there's been a slight positive feeling in terms of how it's affecting the handling," he said.
"We'll see throughout the weekend once the track improves a little bit if that allows us to close the gap.
"I'd already tried [the new suspension] in Barcelona, so from my point of view there was nothing really different, but it's new for George and will be new for Robert.
"From my feeling it's a small, positive step, but how much is impossible to say."