Lewis Hamilton says taking victory in the Canadian Grand Prix after Formula 1 rival Sebastian Vettel's time penalty is "absolutely not the way I wanted to win".
Vettel ran wide at the first chicane on lap 48 as Hamilton applied pressure during a race-long fight for the win, and rejoined just as Hamilton tried to pass between the Ferrari and the wall on the exit of the corner.
He was hit with a five-second penalty and though he won the race on the road, Hamilton was close enough to inherit the victory once that penalty was applied.
Hamilton said: "Naturally that is absolutely not the way I wanted to win. I was pushing to the end to try to get past.
"I forced him into an error, he went a bit wide but then I had the run on that corner and we nearly collided.
"It is unfortunate but this is motor racing."
The penalty left Vettel furious and he complained over the radio, refused to drive his car down to the post-race holding area and later shuffled the number two board in front of Hamilton's Mercedes, moving the number one board to where his car was meant to be.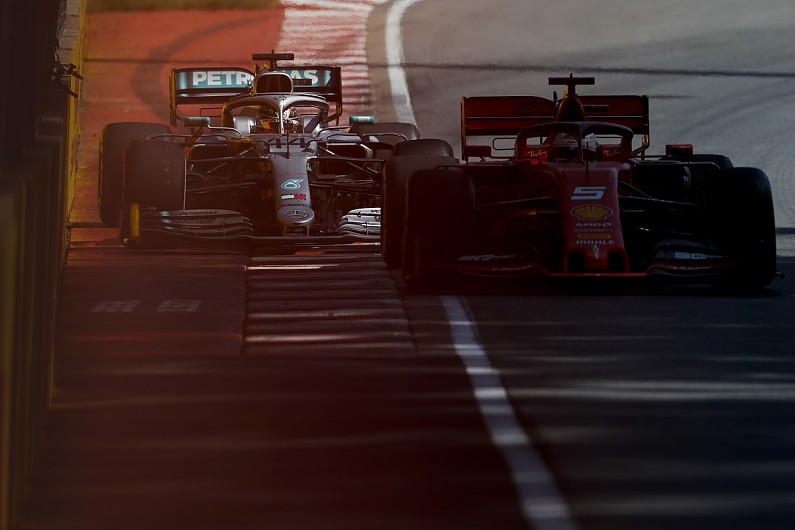 The stewards report of the incident stated that Vettel rejoined the track "in an unsafe manner", "forced [Hamilton] off track", and that Hamilton "had to take evasive action to avoid a collision".
Hamilton said that the stewards were correct to award the penalty.
"I took the corner normally but when you come back on track you are not supposed to go straight back on to racing line you are supposed to come back on safely," he said.
After being unable to pass Vettel to win the race on the road, Hamilton said his best opportunity to overtake was around the moment Vettel went off.
"I was struggling with brake temperature," Hamilton said.
"My tyres were good at that point where he made the mistake.
"I was as close as I was ever going to be."