The Mercedes Formula 1 team admits it would have tried a different Canadian Grand Prix strategy had it known a cooling change would bring so much extra pace.
Lewis Hamilton was compromised by overheating when running close behind Sebastian Vettel in the first stint.
At his stop – which came after the Ferrari driver's – the team made a quick adjustment to give him extra cooling.
Such changes are common practice, especially at races where straightline speed is essential and teams go to minimal cooling levels in qualifying in order to minimise drag.
The hope had been that Hamilton would qualify on pole and run in clear air, but this was not the case as Vettel topped qualifying for the first time in 2019.
When Hamilton's cooling compromise was removed at the stop, and after he was fitted with hard tyres, Hamilton had better pace than had been anticipated.
Mercedes now admits that had it known that pace increase was there, it would have taken an aggressive approach and tried to undercut Vettel by pitting first.
"We had an issue in the first stint where although he was able to match Sebastian's lap times, he couldn't really get close behind because the car was overheating a bit so he had to leave a bit of a gap," said trackside engineering director Andrew Shovlin in a Mercedes video.
"He was having to lift off the throttle to keep it cool.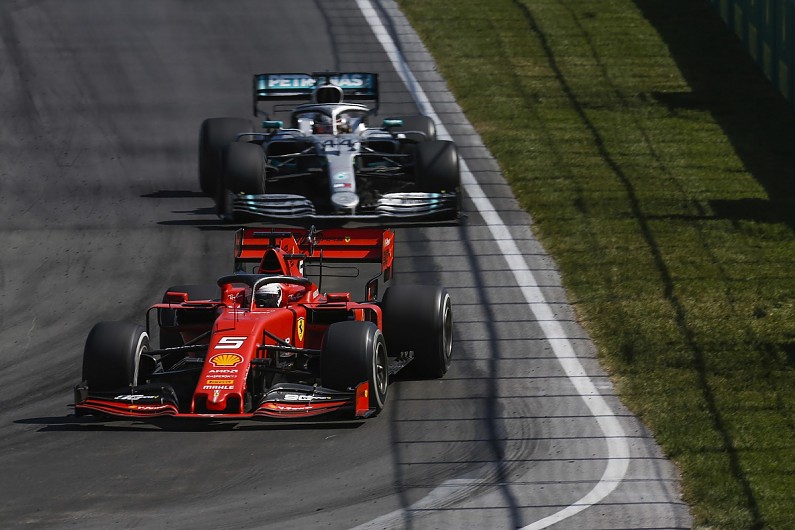 "When Sebastian came in, we told Lewis to push but actually the tyres were degrading a bit and you can see his last two laps were actually no faster than the ones before that. And that was fundamentally why the 'overcut' didn't work.
"The reason why we kept him out the extra lap was just that if there had been a safety car, we would've inherited the lead by virtue of the shorter pitstop.
"Now, looking at it again, you can see in the second stint we were a lot quicker and some of this is because we were able to make a cooling change in the pitstop that suddenly meant Lewis could really push the car harder and we were able to push up behind Sebastian.
"If we'd known that we had that pace difference, we would definitely [have] had a go at the undercut.
"We'd have stopped him one lap earlier and it would've been close, but maybe it would've worked.
"But, even if it didn't work, Lewis would've been on hot tyres as Sebastian joined the track on cold tyres and we could've maybe had a go at overtaking on the lap.
"So, of course what we did didn't work. We would do something differently next time."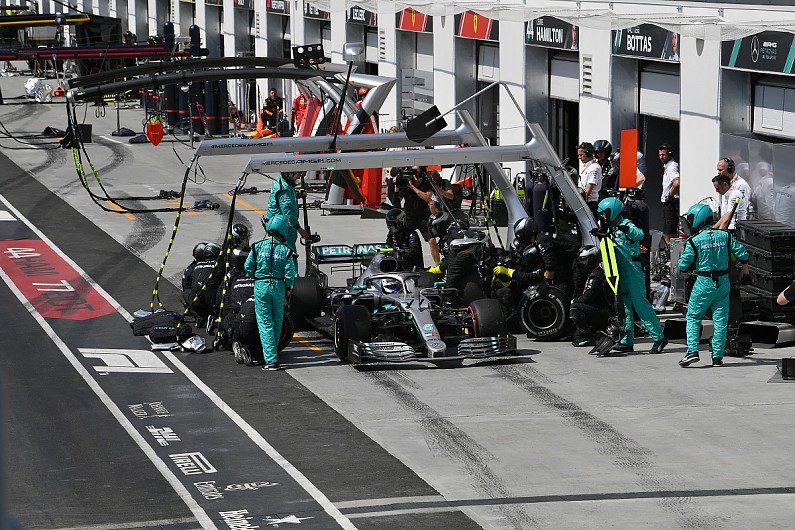 Hamilton's team-mate Valtteri Bottas had the same overheating issue as he ran behind slower cars after his poor qualifying. The same cooling change was made at his stop and he also found better pace thereafter.
"We were a bit undercooled, trying to go for the fastest package we could put together in qualifying," Shovlin added.
"But that meant we were struggling a bit in traffic. We hadn't intended to be so far down the grid."
Shovlin also revealed how tight the race to fix Hamilton's car before the start was, and that the hydraulic leak he suffered was related to the throttle actuator.
The leak was discovered after qualifying, but the car then went into parc ferme and the crew left the circuit on Saturday evening not knowing the source of the leak or its severity.
"We dropped the floor [after qualifying], we noticed there was some oil on the floor, so somewhere there was a leak. We could also see on the data we were losing some hydraulic pressure," said Shovlin.
When the team was allowed to access the car again on Sunday morning, it realised the leak came from the throttle actuator and it would need to remove the engine to replace part of the hydraulic system.
That diagnosis was made early enough to give Mercedes confidence it could fix it in time, although there was no margin for error for further problems.
"Where we were at risk was if we then fired up and we found another problem, if the engine had to come out again, that's when we would've got short on time and perhaps not even been able to start the race," said Shovlin.
After the race the FIA checked that the replacement parts satisfied the rule that states they must be "similar in design, mass, inertia and function to the original" when making changes under parc ferme conditions and confirmed that was the case.