McLaren Formula 1 rookie Lando Norris believes he will gain more by being "on the limit" this season than being conservative because he still has "a lot" to learn.
Norris has been one of the stand-out drivers in 2019, forming a strong partnership with Carlos Sainz Jr and helping McLaren establish itself as the leading midfield team.
The Formula 2 graduate qualified eighth on his grand prix debut and built on that with an impressive first half of the season to lie 10th in the championship at the summer break.
Speaking to select journalists including Autosport, Norris said: "The more you do, the more experienced you are, the better you have an idea of everything.
"At the moment there's a lot of things for me to learn so I've got to push.
"There's already been some places where you probably save a bit knowing you can use it in qualifying, maybe a line or using a kerb.
"There's more for me to learn by pushing and being on the limit than there is by saving and being more conservative."
Where direct comparisons are possible, Norris is just 0.036s behind much more experienced team-mate Sainz on qualifying averages this season – the second smallest margin on the grid.
However, he has only scored points in five races, compared to Sainz finishing in the top 10 in eight of the 12 grands prix so far.
Norris said that he has learned a lot about how to best execute a race, "from the start to saving the tyres to the overtaking, knowing when to use my battery, when to save it".
He added: "The whole package of a race is something I wasn't very good at in Australia and something I've got much better at.
"I already made a step forward in Bahrain and that was a good result but there was still a lot of improvements to make from the racing side of things.
"There's still certain things which Carlos is very good in and I still need to progress in."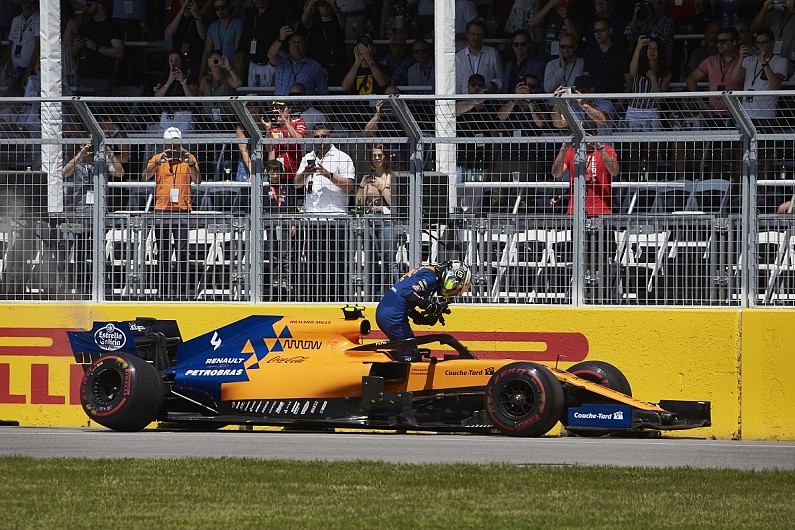 McLaren has evolved into the fourth-fastest team outright as the season has progressed, having started the campaign by doing a better job than faster rivals.
Norris's best result is a pair of sixths and he would have scored more points in France and Hungary without issues outside of his control.
"Whenever there's been a chance to do something, generally I've been able to do it," he said.
"I've always been there when I've needed to and been in places to capitalise on anyone's mistakes, or anything like that.
"I've not made any serious mistakes: crashed the car, crashed into anyone, anything like that.
"So overall, I'm pretty pleased.
"There's obviously a lot of room for improvement still. It's not always seconds' worth, it can be half a tenth in qualifying, one tenth.
"Sometimes that can be quite a lot, especially with the midfield pack being so close."